Thu, 05 Jul 2007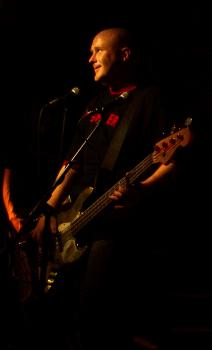 Obviously, we didn't win the popularity contest linked below. So with that in mind lets just see how hard we need to work to get on the bil next year.
Well here are the criteria...
----
* Are you good enough?
Obviously we are good enough.
We are not going to commit acts of terrorism on our next trip to the states either.
----
* Are you ready? (SSW is a high profile event. If you play and blow it, you're doing yourselves more harm than good)
"Come on now be honest, are you really good enough?" Yes of course we are, next question.
----
* Is there a good story to tell (e.g a real buzz, national reviews, genuine following on myspace etc?)
Umm...yes. I can spin a yarn or two. We once went on stage, get this, we once went on stage and played music, yeah I know music, in front of people, it wasn't even in Leicester. And I don't know what we were thinking, we were all hopped up on diet coke at the time...as was the craze, because, because we went down rather well and were asked back again. Amazing times, exciting times. Of course we are older and wiser now.
----
* Do you come recommended? e.g does your EMMNET (East Midlands Music Network. www.emmnet.org) officer know about you, have you done notable slots at (say) The Musician or The Charlotte etc.
Well we played a Mercury Showcase a few years ago. Dave Davies "warmed to us." It was featured in the local rag I believe. I can't believe you hadn't already heard. I shall send Dawson an email immediately.
Hello Dawson,
This is Kiajaroovah calling to tell you we exist.
Bye then.
Kiajaroovah.
----
* Are you in time (broadly speaking if its later than mid May, it will be full barring any last minute cancellations).
Well we do use polyrythmic devices on some of our tracks. It certainly can sound confusing to the casual listener, but really we do know what we are doing.
----
* Are you definitely available - it's amazing how many people ask to play and then don't realise that they're going to a wedding the same weekend.
Checks colender. Still leaking. It should be fine.
----
I think we've managed to tick all of the boxes there. I can't see any problems. :)
Author: JR